Dr. Amol Saxena, DPM
Palo Alto Foundation
Medical Group
Dept. of Sports Medicine
3rd Floor, Clark Building
795 El Camino Real
Palo Alto, CA 94301
Office: 650-853-2943
Fax: 650-853-6094
E-Mail
Map | Directions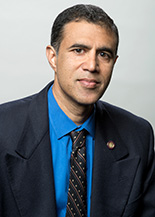 Dr. Amol Saxena's Recommended Running Shoes
Theories and evidence for shoe recommendations are emerging. Flat feet no longer necessarily need a "motion control/stability" shoe. More experienced runners who have proper foot strike and strength can use less supportive shoes. Those new to running, especially if overweight, may benefit from more supportive shoes. Arthritic knees tend to do better with more cushioned shoes. Those with knee cap problems (patello-femoral) tend to do better with lower heel to toe ratio, whereas those with Achilles issues do best with a higher heel. Shoes with a rocker sole are better for forefoot problems, especially big toe arthritis (Hallux Rigidus), neuromas and midfoot arthritis. Research has shown the most critical factor in choosing the "right" shoe is perceived fit/comfort, so make sure you try the shoe on, using your usual running socks, and the end of the day so your feet are as "swollen/spread out" as they can be.
(Note: these shoes are not in rank-order. Some models come in widths.)
For Cushioning (for high-arched feet & those with joint problems)
Adidas Supernova Glide
Brooks Transcend
Nike Vomero (widths)
Hoka Bondi or Stinson 3(widths)
Asics Nimbus (widths)
New Balance 1080 (widths)
For Stability (for mild to moderate over-pronation)
Adidas Supernova Sequence
Brooks Adrenaline GTS
Nike Air Structure Triax(widths)
Hoka Constant 2
New Balance 860(widths)
Saucony Guide
For Motion Control (severe over-pronators, heavier individuals, posterior tibial dysfunction)
ASICS Gel 3000
Brooks Beast/Ariel
Nike Odyssey
Trail
Adidas Glide Boost ATR
Altra Torin 2.0 (widths)
ASICS GT 2000 Trail
Hoka Conquest 2, Mafate Speed, Stinson ATR
Nike Wildhorse
Note: for runners in High School, College and those with no injury history consider:
ASICS 2000 & Cumulus
Nike Lunar Glide & Pegasus
More shoes listed on www.aapsm.org website.
---
Home | About Dr. Saxena | Articles | Appointments | Shoe List | Orthoses
Medial Distal Tibial Syndrome (Shin Splints) | Sever's Disease/Calcaneal Apophysitis
Ankle Sprains & Calf Strains | Injury Prevention | Heel Pain | Achilles Heel | Ankle Stretching, Rehabilitation & Taping
Return to Sports After Injury | Cycling | Marathons | Videos | Recommended Books | Links
Friends & Patients | Legal Notice | Privacy Statement | Site Map
Copyright © Amol Saxena, DPM - Sports Medicine & Surgery of the Foot & Ankle
Web Site Design, Hosting & Maintenance By Catalyst Marketing Innovations, LLC/ Worry Free Websites