Dr. Amol Saxena, DPM
Palo Alto Foundation
Medical Group
Dept. of Sports Medicine
3rd Floor, Clark Building
795 El Camino Real
Palo Alto, CA 94301
Office: 650-853-2943
Fax: 650-853-6094
E-Mail
Map | Directions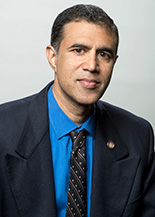 Dr. Saxena's practice specializes in Sports Medicine and Foot & Ankle Surgery, incorporated into the Palo Alto (CA) Foundation Medical Groups' multispecialty Sports Medicine department in 1993, in the home-town where he was born and raised. Clinical & research interests include sports medicine/running injuries, acute and chronic ankle pain (ankle osteochondral injuries), Achilles and Peroneal Tendons, stress fractures (especially Navicular and Jones), midfoot injuries (Lisfranc's), revision surgery, flatfoot surgery and 1st MPJT arthritis. He has pioneered several surgical techniques (such as the endoscopic Gastrocnemius recession and other Achilles procedures), classifications and instruments (including a bone grafting retractor, an arthroscopic drill guide and various locking plates). Dr. Saxena has been awarded Alumnus of the Year and Honor Medal from Scholl College of Podiatric Medicine during their centennial anniversary (2012). He is a lifetime honorary member of the German Society for Foot and Ankle Surgery (www.gffc.de) and inducted into the Royal College of Physicians & Surgeons FFPM RCPS (Glasgow). He is a current MPH candidate(June 2023) at Dartmouth College's TDI Hybrid Program.
He is the only podiatrist to lecture at the American Orthopedic Society for Orthopedic Sports Medicine (three times) and member. International and nationally recognized surgeon, speaker and author, and has published over 140 articles and chapters including in dozens of orthopedic journals and texts. Dr. Saxena is the editor of "International Advances in Foot and Ankle Surgery" (Springer 2012), a unique text of internationally re-known podiatric, orthopedic and trauma surgeons with 45 chapters, and 68 authors. Also editor of two sub-texts "Sports Medicine and Arthroscopic Surgery of the Foot and Ankle" and "Special Procedures in Foot & Ankle Surgery".
Dr. Saxena is past President of the American Academy of Podiatric Sports Medicine (AAPSM). Elected Regional President 2019-2021 for American College of Foot & Ankle Surgeons. He serves on the Editorial Board for Muscle, Ligament & Tendon Journal (Italian). He served previously as consulting Podiatrist for Oregon Track Club and Nike Oregon Project and local high school athletic teams. He has been director of Fellowship training at PAMF since 1999. In 2004 he was awarded Humanitarian of the year by the CPMA. He is funding an endowed scholarship at his alma mater, Scholl College. He currently has treated and operated on dozens of Olympians from around the world (including Gold Medalists and world record holders), and Olympic Trials qualifiers, numerous professional athletes including from the Nike Oregon Project, Golden State Warriors San Francisco Giants and 49ers, and San Jose Earthquakes, and many top area high school athletic scholarship winners. Dr. Saxena is board certified/Re-certified in Foot and Reconstructive Rearfoot/Ankle Surgery (American Board of Foot and Ankle Surgery), Fellow American College of Foot & Ankle Surgeons, American Academy Podiatric Sports Medicine (which he was presented the Schuster Award for outstanding research in 2011. He also has passed the USATF Level 1 Coaching Certification.
Dr. Saxena has competed in several Boston Marathons and Duathlon (run, bike, run) World Championships. He is married and has three children. He is able to converse in English, German, French and Hindi. Has basic knowledge of medical Spanish and Italian. Co-Founder, along with his wife who is race director, of the "Juana Run", which has raised over $350,000.00 for Palo Alto local schools since 1997. Published "The First Birthday Party Story" for charity in 2022.
---
AWARDS/CERTIFICATIONS
CAQ Sports Medicine Am Bd Pod Med
2022
Royal College of Physicians & Surgeons(Glas) Faculty Pod Med
2020
MD-affiliate Member, Am Ortho Soc of Sports Med
2020
USATF Level 1 Coaching Certification
2020
Lifetime Honorary Achievement German Society for Foot & Ankle Surgery
2017
German International School of Silicon Valley B2 level
2016, 2022
Scholl College of Podiatric Medicine Alumni of the Year
2012
American Academy of Podiatric Sports Medicine Biomechanics/Schuster Award
2011
California Podiatric Medical Association Humanitarian of the Year
2004
Board Certified, American Board of Podiatric Surgery,
(Foot and Reconstructive Rearfoot/Ankle Surgery)
1993, 1995
Re-certified, American Board of Foot & Ankle Surgeons
(completed Foot through 2033) Re-certified in ankle through 2025
through 2023
Fellow, American College of Foot and Ankle Surgeons
1993
Fellow, American Academy of Podiatric Sports Medicine
1990
Fellow, American College of Foot and Ankle Orthopaedics and Medicine
1995
Marquis Who's Who of the World
1992-93, 1995-96
Outstanding Young Man in America
1986-89
Outstanding Young Man in America , Board Member
1996-97
---
BOARD/COMMITTEE APPOINTMENTS
Am Orth Society for Sports Medicine Re-certification Committee
2022-
American College of Foot & Ankle Surgeons, Region I President
2019-2021
USA Track & Field Sub-committee on Sports Medicine
2017-2020
American Academy of Podiatric Sports Medicine Board/Current President
2014-2018
American College of Foot & Ankle Surgeons, Div I Vice President
2011-2018
Board of Podiatric Medicine, CA Expert Reviewer
2010
American Medical Athletic Association, Advisory Board (volunteer)
2000-2016
Surgecenter of Palo Alto, QA & Medical Advisory Board
2000-Present
Section Chairman, Stanford Health Care, (Podiatric Surgery)
2001-2016
Approver of credentialing files, (Podiatry) Stanford Health Care
2016-2021
Approver of credentialing files, (Podiatry) Stanford Childrenís Health (LPCH)
2001-2021
Washington University (St. Louis) Young Alumni "W" Club Board
1995-2000
Washington University (St. Louis) (volunteer); "Alumni Admissions"
1995-2008
USA Track and Field Sports Medicine Executive Committee, Regional Chair (volunteer)
1993-2008
Reviewer, Journal of Foot and Ankle Surgery Editorial Board
1995-2001
2011-2021
Editorial Board, Foot & Ankle Quarterly
1999-Present
Scientific Chairman "Sports Medicine and Reconstruction Foot Surgery"
(S.C.P.M. Summer Seminar)
Aug. 1995, Aug. 1996, Aug. 1998, Aug. 2000, June 2002
Podiatric Sports Medicine Editor, The Lower Extremity
1994-1998
Adjunct Clinic Faculty, California College of Podiatric Medicine
1995-2003
Sports Medicine Committee, American College of Foot and Ankle Surgeons
1998-2002
Stanford Myofascial Institute, Board (volunteer) (now SMI)
1997-2000
"Fifty Plus", Board Member (volunteer); Research Committee
2000-2004
---
RESEARCH PUBLICATIONS (from most recent)
Tarsal coalition resections: a long-term retrospective analysis of 97 resections in 78 patients.
(J Ortho Surg and Res 2022)
Insertional Achilles Tendon Repair with Bioabsorbable Anchors and Suture (Musc Lig Tend J 2022)
The double postero-medial portals endoscopy for posterior ankle impingement syndrome in athletes. J Ortho Trauma 2022 (Maffulli et al)
Stimulation of human bone marrow by mesenchymal stem cells by electromagnetic transduction therapy. Electromagnetic Biology and Medicine 2022 (Gerdesmeyer et al)
Lisfrancís injuries in athletes (Musc Lig Tend J 2021)
Consensus for rehabilitation of Achilles Tendon ruptures: the GAIT study group (JFAS 2021)
Acute and Chronic Lisfrancís fusions 188 cases (JFAS 2022)
Stress Fractures in Sport: Foot (Maffulli, Robertson, eds)(Springer 2021)
Sesamoidectomy in athletes: report from two centers (JFAS 2021)
Non-pharmaceutical treatments of fractures (Chapter in Bone Stress Injuries: Diagnosis, Treatment, and Prevention (Fredericson & Tenforde, eds) (Springer 2021)
Analysis of Talar 204 OCDs (JFAS 2022)
Outcomes of 166 Achilles insertional repairs (2021 J Foot Ankle Surg)
1st Met OCDs in Hallux Rigidus patients (2021 J Foot Ankle Surg)
Analysis of 188 Achilles Tendon ruptures (2021 J Foot Ankle Surg)
Talar Fractures (Chapter for McGlamry textbook)
Outcomes of talar osteochondral and transchondral lesions using an evidence-based algorithmic approach based on size, location and subchondral plate integrity: a 10-year study on 204 lesions-Abstract (2020 Ortho J Sports Med)
Navicular Stress Fractures: a primer(2020 Asian J Foot Ankle Surg)
Combined ESWT and RSW for Achilles Tendinopathy (2019 Musc Lig Tend)
Valenti Procedure on 100 running & jumping athletes (2019 J Foot Ankle Surg)
Bunion Surgery in athletes: systematic review (2019 J Foot Ankle Surg, M Fournier Lead author)
An Unusual Case of a Fibular Sesamoid Phalangeal Ligament Tear Due to Chronic Trauma.(JAPMA 2019 P.Kim lead author)
Extracorporeal shockwave therapy in the management of insertional Achilles tendinopathy (2018 Musc Lig Tend J)
Extracorporeal shockwave therapy in the management of mid-substance Achilles tendinopathy (2018 Musc Lig Tend J)
Extracorporeal shockwave therapy in the management of insertional plantar fasciitis: the assert database (2018 Musc Lig Tend J)
Achilles insertional tendinopathy-state of the art (2018 ISAKOS)
Achilles triple rupture in an athletic patient (2018 J Foot Ankle Surg)
A novel method of lateral Lisfranc's stabilization and report on 5 cases (2018 J Foot Ankle Surg)
Editorial: Should sports injuries and surgeries be policed? (2017 J Foot Ankle Surg)
Peritenolysis and Debridement for main-body(mid-portion) Achilles tendinopathy in athletic patients: results of 107 procedures (2017 J Foot Ankle Surg)
Treatment of plantar fasciitis with radial soundwave "early" is better than after 6 months: a pilot study (2017 J Foot Ankle Surg)
Navicular stress fracture outcomes in athletes: analysis of 62 injuries (2017 J Foot Ankle Surg)
Electromagnetic transduction therapy for Achilles tendinopathy; a preliminary report on a new technology (2017 J Foot Ankle Surg)
Percutaneous ultrasonic tenotomy for Achilles tendinopathy is a surgical procedure with similar complications (2017 J Foot Ankle Surg)
Treatment of medial tibial stress syndrome with radial soundwave therapy in elite athletes: current evidence, report on two cases and proposed treatment regimen (2017 J Foot Ankle Surg)
Autogenous Calcaneal Dowel Grafting Proximal Fourth and Fifth Metatarsal Base Fractures: Technique and Case Series (2017 J Foot Ankle Surg)
Percutaneous plating for fibular fractures (2017 J Foot Ankle Surg)
Randomized Placebo Controlled Placebo Trial to Determine the Placebo Effect Size (w Gerdesmeyer et al Pain Physician 2017)
Medial Displacement Calcaneal osteotomies: Screws vs Plates 2016 J Foot Ankle Surg
Radial Soundwave for Sesamoiditis 2016 J Foot Ankle Surg
Synovial Chondromatosis of the ankle: two patients with 22 and more than 120 loose bodies 2016 J Foot Ankle Surg
Naviculo-cuneiform coalition: case reports of two sibling soccer players 2016 J Foot Ankle Surg
Chapter: Shoes for Cross-training: in Athletic Footwear M Werd (Ed) Springer 2017
Subtalar Arthroeresis: Prospective study on 100 adult patients 2016 J Foot Ankle Surg
Current evidence of extracorporeal shock wave therapy in chronic Achilles tendinopathy 2015 Int J Surg
Clinical relative effectiveness of focused ESWT in the treatment of chronic plantar fasciitis 2015 J Bone Joint Surg
Rate of Surgical Site Infection Following the Implementation of an Antibiotic Prophylaxis Protocol. J. American Society of Podiatric Surgeons 2014
Endoscopic Gastrocnemius Recession in Arthroskopie Fuss- und Sprunggelenk (German)
Endoscopic Plantar Fasciotomy in Arthroskopie Fuss- und Sprunggelenk (German)
Medial locking plate versus two screw fixation for fixation of the Ludloff Osteotomy, J Foot Ankle Surg, 2013
Comparison between Extracorporeal Shockwave Therapy, Placebo ESWT and Endoscopic Plantar Fasciotomy for the Treatment of Chronic Plantar Heel Pain in the Athlete. J Musc Lig Tend, 2013
A unique procedure for treatment of Osteochondral lesions of the Tarsal Navicular: three cases in athletes. J Foot Ankle Surg, 2013
Vibration and Pressure Wave Therapy for Calf Strains: a Proposed Treatment. J Musc Lig Tend 2013
Commentary in Foot & Ankle Quarterly on "Treatment of Achilles Tendinopathy with Platelet-Rich Plasma", 2013
Commentary in Foot & Ankle Quarterly on "Surgical Interventions for treating acute Achilles tendon rupture: key findings from a recent Cochrane Review", 2013
Plantar Fascia injuries in athletes (Ch 32) in Foot & Ankle in Sport, (Altchek et al, eds, Lippincott) Nov. 2012
Endoscopic Gastrocnemius Recession J Arthroskopie (German) Nov 2011
Use of a novel treadmill for rehabilitation of the Achilles tendon: a pilot study (Poster @ 2010 ACFAS Ann'l Meeting)J Foot Ankle Surg 50(5) 2011
Magnetic Resonance Imaging and incidental findings of lateral ankle pathological features with asymptomatic ankles (presented @ 2010 ACFAS Ann'l meeting) J Foot Ankle Surg 50(4) 2011
Extra-corporeal Pulsed-activated Therapy("EPAT" Soundwave) for Achilles tendinopathy: a prospective study J Foot Ankle Surg 50(3) 2011
Post-operative physical therapy in International Advances in Foot & Ankle Surgery, Springer 2011
Endoscopic Gastrocnemius recession in International Advances in Foot & Ankle Surgery, Springer 2011
Anterior Ankle & Subtalar Arthroscopy in International Advances in Foot & Ankle Surgery, Springer 2011
Acute Achilles & other tendon ruptures in International Advances in Foot & Ankle Surgery, Springer 2011
Os Trigonum Syndrome in International Advances in Foot & Ankle Surgery, Springer 2011
Ankle OCDS in International Advances in Foot & Ankle Surgery, Springer 2011
Plantar Fasciitis in International Advances in Foot & Ankle Surgery, Springer 2011
Lisfranc's sprains in International Advances in Foot & Ankle Surgery, Springer 2011
Stress Fractures: Jones, Navicular and Medial Malleolar in International Advances in Foot & Ankle Surgery, Springer 2011
Turf Toe in International Advances in Foot & Ankle Surgery, Springer 2011
Peroneal Tendonopathy in International Advances in Foot & Ankle Surgery, Springer 2011
Insertional & mid-substance Achilles Tendonopathy in International Advances in Foot & Ankle Surgery, Springer 2011
Lapidus Procedure in International Advances in Foot & Ankle Surgery, Springer 2011
Revision First Ray Surgery in International Advances in Foot & Ankle Surgery, Springer 2011
Hallux Rigidus: Distal First Metatarsal Osteotomy/Hohmann procedure in International Advances in Foot & Ankle Surgery, Springer 2011
Hallux Rigidus: Valenti Arthroplasty in International Advances in Foot & Ankle Surgery, Springer 2011
Extra-corporeal pulsed activated ("EPAT") sound-wave for Achilles tendinopathy: a prospective study ( J Foot Ankle Surg 50(2): 2011, Poster 2011 ACFAS Ann'l meeting)
Endoscopic Plantar Fasciotomy in Minimally Invasive Foot & Ankle Surgery, Maffulli & Easley, eds. Springer 2011
Endoscopic Gastrocnemius Recession in Minimally Invasive Foot & Ankle Surgery, Maffulli & Easley, eds. Springer 2011
Rehabilitation of the operated Achilles tendon: parameters for success. J Foot Ankle Surg 50(1):37-40, 2011
ACSM Sports Medicine Review: test questions for Lower Extremity Stress Fractures, Ankle sprains, Running shoes & orthoses, Brian Davis, MD (ed) 2011
Navicular Stress Fractures: Letter to the Editor, Am J Sports Med 2010
Peroneal Retinaculum Repair: surgical results in 31 athletes J Foot Ankle Surg 2010
Endoscopic Gastrocnemius Recession (w Chris DiGiovanni, MD), in "Minimally Invasive Surgery in Orthopaedics", (Springer, Scuderi & Tria, Editors), 2009
Subtalar arthroereisis (Mark Easley, MD ed), Techniques in MIS Orthopedic Surgery 2009
Lapidus Bunionectomy: early evaluation of crossed lag screws versus locking plate with plantar lag screw. J Foot Ankle Surg 2009
Removal of an unusual pedal ossicle in an elite athlete: case study. J Foot Ankle Surg 2009
Cuboido-navicular coalitions J Foot Ankle Surg 2009
Wound Complications with Achilles tendon surgery: report on 219 cases. J Am Podiatr Med Assoc 2008
Endoscopic Gastrocnemius Recession Zeitschrift fuer Orthopaede (German) 2007
The Achilles Tendon, Ankle Equinus and the Athlete (w Chris DiGiovanni, MD), in "The Achilles Tendon" (N. Maffulli, MD & L Almekinders, MD Editors) Springer-Verlag 2007
Articular injuries to the talus in athletes: results of treatment with microfracture and autogenous bone graft. Am J Sports Med 2007
Radiographic findings of bioabsorbable subtalar arthroereisis implants. J Foot Ankle Surg May-June 2007
Navicular Stress Fractures in Athletes: a prospective study. Foot Ankle Int'l Nov. 2006
Implantable Bone Stimulation: Fusion Rates in 26 Cases. J Foot Ankle Surg, Nov/Dec 2005
Bioabsorbable Screws for Lisfranc's Diastasis J Foot Ankle Surg, Nov/Dec 2005
Guest Editor, Indian Journal of Foot Surgery, Peroneal Tendon Pathology, 2005
Endoscopic Gastrocnemius Recession: Preliminary Report on 18 Cases. J Foot Ankle Surg, Sept/Oct 2004
Uni-portal Endoscopic Plantar Fasciotomy in Athletes: a prospective study. Foot Ankle Int, Dec. 2004
Pigmented Villonodular Synovitis: 10 Cases in the Ankle. Foot Ankle Int'l Nov. 2004
Plantar Fascia Ruptures in Athletes. Am J Sports Med May-June 2004
Results of Achilles Tendon Surgery in Elite and Sub-elite Track Athletes. Foot & Ankle Int'l Sept. 2003
Surgical Results of Sesamoidectomy in the Athletic and Active Patients. Foot & Ankle Int'l May 2003
Peroneal Tendon Tears: 49 Cases in 41 Patients. J Foot Ankle Surg July/Aug 2003
"Retrospective review of 91 surgeries for chronic Achilles pathology". J Am Pod Med Assoc July/Aug 2003
"Peroneal Tendon Abnormalities: a review of 40 cases". JAPMA July/Aug 2003
Tarsal Coalitions: Activity levels with and without surgery. JAPMA July/Aug 2003
Quinolones and Achilles Tendon Rupture. JAPMA July/Aug 2003
Ankle Dorsiflexion in Adolescent Athletes. JAPMA July/Aug 2003
Guest Editorial, J Am Pod Med Assoc, July/Aug 2003 Sports Medicine Issue
"Endoscopic Gastrocnemius Tenotomy" Jan/Feb, 2002, J Foot Ankle Surg
"Achilles Tendinopathy" Kader, Saxena, Moven & Maffulli, July 2002, Br. J Sport Med
"Hypophosphatemic Rickets presenting as recurrent stress fractures in a middle-aged woman" Linde, Saxena & Feldman, March/April, 2001, J Foot Ankle Surg
"The Watershed Band of the Achilles Tendon: Cadaveric and MRI findings" Saxena & Bareither, May/June 2001 J Foot Ankle Surg
"Proximal Fourth Metatarsal Stress Fractures: Jones fracture of the fourth metatarsal" Saxena, Krisdakumtorn, & Erickson July 2001, Foot & Ankle Int'l
"Pushing the Envelope: How soon you can and cannot return an athlete to sports" Fall 2001,Clinics in Pod. Med. & Surg
"Bone Stimulation on Stress Fractures: A Case-Control Study with a Comparison to the Literature" Foot & Ankle Quarterly (13)2, Summer 2000
Guest Editor, Foot & Ankle Quarterly, "Sports Medicine" Summer 2000 (Editorial)
"Return to Athletic Activity after Foot & Ankle Surgery: A Preliminary Report on Select Procedures" March/April 2000, J. Foot Ankle Surg
"Results of Treatment of 22 Navicular Stress Fractures and a New Proposed Radiographic Classification System," March/April 2000, J. Foot Ankle Surg
"The Incidence of the Plantaris Tendon - Magnetic Resonance, Surgical and Cadaver Findings," Foot and Ankle Int'l July, 2000
Expert Analysis: Foot & Ankle Quarterly: Posterior Tibial Dysfunction (Talo-navicular Fusion), 2000
Guest Editor: Foot and Ankle Quarterly: New Surgical Techniques, Winter Issue 1999 (Audio Lecture: Surgery for Chronic Achilles Problems)
"Keeping Healthy"; Chapter 26, in Breakthrough Running, Human Kinetics Publishing, 2000
"Tips, Quips and Pearls: The Evans Calcaneal Osteotomy," J. Foot Ankle Surg, (2) 2000
"Lis Franc's Injuries: A Round Table" Biomechanics April1999
"The Effect of Foot Orthoses on Patellofemoral Syndrome," June, 1998, The Lower Extremity
"An Interactive Symposium on Procedures to Reduce the First Intermetatarsal Angle," June 1998, The Lower Extremity
"Tips, Quips, and Pearls: Soft Tissue Anchors," March/April 1998, Journal of Foot and Ankle Surgery
"An Algorithmic Approach to Lisfranc's Joint," December, 1997, The Lower Extremity
"Longitudinal Peroneal Tendon Tears," May/June 1997, Journal of Foot and Ankle Surgery
"The Ludloff Osteotomy: A Critical Analysis," March/April 1997, Journal of Foot and Ankle Surgery
"Sports Medicine Grand Rounds," Nov/Dec 1996. Journal of Foot & Ankle Surgery
"Retrocalcaneal Pain: An Algorithmic Approach," March 1996, The Lower Extremity
"The Long Term Results of Dorsal Approaches to Sesmoidectomies," Sept 1995, The Lower Extremity
"The Valenti Procedure for Hallux Limitus/Rigidus," Sept/Oct 1995 J. Foot and Ankle Surgery
"Lateral Ankle Reconstruction: A Comparison of Soft tissue Metal Anchors versus Split-Peroneus Brevis Tenodesis," March 1995, The Lower Extremity
"Surgical Treatment of Chronic Achilles Tendinitis," May/June 1995, Journal of Foot and Ankle Surgery
"Pigmented Villonodular Synovitis of the Ankle," March/April 1995, The Lower Extremity
"Metabolic Etiologies for Pedal Stress Fractures," Mar/Apr 1995, The Lower Extremity
"An Unusual Case of Achilles Paratendinosis," Jan/Feb 1994, Journal of Foot and Ankle Surgery
"Unusual Foot Pathologies Mimicking Common Sport Injuries," Mar/Apr 1993, Journal of Foot Surgery
"Postoperative Physical Therapy for Podiatric Surgery," Aug 1992, American Journal of Podiatric Medicine
"Effects of Stretching the Gastrocnemius Muscle," May/June 1991, Journal of Foot Surgery
"Anatomic Dissection of Posterior Tibialis Muscle and Correlation to Medial Tibial Stress Syndrome," Mar/Apr 1990, Journal of Foot Surgery
"A New Radiographic Angle to Assess Intra-articular Calcaneal Fractures," May/June 1989, Journal of Foot Surgery
"Footwear and Ankle Stability in the Basketball Player," Apr 1988, Clinics in Podiatric Medicine and Surgery
---
UPCOMING ARTICLES/BOOK CHAPTERS ACCEPTED
Not all calcaneal fractures are classifiable (submitted JAPMA)
Achilles Avulsions (Submitted Foot & Ankle Surgery)
Carbon plated shoes and navicular bone stress injuries (submitted Sports Medicine)
---
SCIENTIFIC PRESENTATIONS
German Assoc for Foot & Ankle Surgery, Munich, GER: Lisfranc's in Athletes
Dec 2022
NE OH Meeting: "Podiatry, Prejudice & possible solutions"
Oct 2022
AAPSM Stand Alone, Seattle WA: "Podiatry, Prejudice & possible solutions", Ankle Arthroscopy Panel
Oct 2022
Latin America Shock Wave Society, Colombia: Achilles, Plantar Fascia & Shockwave
Sep 2022
Grand Rounds Mt. Auburn Hosp, Cambridge MA: "Podiatric Sports Medicine"
Aug 2022
Musc Lig & Tendon Ann'l Meeting, Rome Italy:"What Cuboid Syndrome is not"
April 2022
Midwestern University: "Podiatric Sports Medicine"
Feb 2022
Yale Grand Rounds: Myths of Podiatric Sports Medicine
Dec 2021
German Assoc for Foot & Ankle Surgery Ann'l Meeting: Complications with Hindfoot Tendon Surgery, Navicular Stress Fractures
Dec 2021
Goldfarb Podiatric Meeting: complications of ankle tendon surgery
Nov 2021
St. Mary's Webinar: Diversity in Podiatry
June 2021
German Assoc for Foot & Ankle Surgery: Non-surgical care for Achilles Tendinopathy
2021
Ontario Chiropody Society: What is not Cuboid Syndrome
May 2021
German Assoc for Foot & Ankle Surgery: Peroneal dislocation
Dec 2020
OK State Meeting: Achilles, Shockwave, Treating Athletes
Nov 2020
Midwest Pod Conf (Leg cramps)
October 2020
Podiatry Institute New Orleans: Lisfranc's Injuries, Shockwave
March 2020
Achilles Ruptures and Rehab: AAPSM Virtual Lecture
April 2020
Myth & Reality of Sports Medicine: Western U
May 2020
AOSSM Summer (Virtual) Meeting Talar OCDs
July 2020
Shockwave in Athletes: Regenerative Institute
Aug 2020
Weekend Warrior to Pro athlete treatments: NYCPM
Aug 2020
Turf Toe: AAPSM Virtual Meeting
Aug 2020
Grand Rounds UCSF/SF VA
Sept 2020
GFFC Annual Meeting: Turf Toe, Achilles ruptures, Shockwave
December 2019
Regenerative Institute Meeting: Shockwave
November 2019
Puerto Rico Ann'l Meeting: Lisfranc's, Stress Fractures, PRP, Shockwave
June 2019
Muscle Ligament & Tendon Ann'l Meeting(Italy): Evidence for Posterior Lengthening, Treatment of delayed Syndesmosis ruptures
12/2018
Spanish National Meeting: Achilles Tendinopathy, Navic Stress Fractures
10/2018
AAPSM Annual Meeting: Navicular Stress fractures, Sesamoid injuries, Shockwave
9/2018
Grand Rounds: Mass Gen Hosp Foot & Ankle Center, Spaulding Institute
July 2018
Midwest Pod Conf: Evidence for Ankle Arthroscopy & Endoscopy
Apr 2018
CT State Meeting: Achilles, Ankle OCDS
Feb 2018
GFFC Annual Munich Meeting Keynote: 1st MPJ Problems in Athletes
Dec 2017
AAPSM Annual meeting: Ankle sprain panel, Talar OCDs, Intro to Shockwave, MRI, CT or SPECT, Equinus panel
Sept 2017
Midwest Podiatry Conf: Tendon ruptures, Achilles tendinosis in Athletes, complications of lateral ankle instability, Equinus in athletes
April 2017
Joint Commission on Sports Medicine New advances
Feb 2017
Munich/GFFC: Sports Med Myths, Achilles Update, 1st Ray surgery
Dec 2016
AAPSM Stand Alone: Seminar Vice Chair; Achilles update, Cadaver Lab, Hallux Rigidus
Oct 2016
Texas State Meeting:Navicular Injuries, Sports Med Panel
Sept 2016
Midwest Podiatry Conference Percutaneous Achilles repair, Sports Med Myths
Apr 2016
ACFAS AnníL Meeting: Microfracture; EGR&EPF,Return to Sports;Panel
Feb 2016
Munich:German Foot & Ankle Conf: Myths & reality of sports medicine, Achilles Surgery, Ludloff vs Lapidus
Dec 2015
CA School of Pod Med Surgical Conf: Scary Cases, Ludloff vs Lapidus
Oct 2015
AAPSM Standalone: co-chair, Myths & reality of sports medicine
Sept 2015
Midwest Pod Conf: Achilles Surgery, Surgical anatomy, PRP workshop
Mar 2015
Munich:German Foot & Ankle Conf Peroneal, Calc Osteotomies, Ludloff vs Lapidus, Cadaver lab
Dec 2014
Am Med Ath Assoc Boston Marathon Meeting: Myth & Realty of Treating Runners
Apr 2014
Midwest Pod Conf: Surgical anatomy, Current Treatments of Tendinopathy
Apr 2014
AAPSM Stand Alone: Case studies, Ankle workshop
Mar 2014
VUMEDI Ankle Arthroscopy Webinar
Sept 2013
Achilles & Ankle Workshop (NYC)
Sept 2013
Am Pod Med Assoc Ann'l Meeting: Return to Sport after Foot & Ankle Surg
July 2013
InnovationsFuss(Kiel Germany) Ankle Arthroscopy, Retrograde Drilling
June 2013
Midwest Pod Conf: New Technologies in Tendinopathy, Myth of Stretching, Leg Pain Workshop
Apr 2013
Muscle Ligament & Tendon Ann'l Meeting (Italy)
Nov 2012
Learning in the Vineyard (Napa, CA)
Oct 2012
ArthroscopyLab (GFFC-Germany)
Sept 2012
Midwest Podiatry Conf (Chicago)
April 2012
Achilles Master Course
Feb 2012
Orange County Foot & Ankle Meeting
Sept 2011
Int'l Musc. Shockwave Therapy Soc (Kiel, Germany)
June 2011
Midwest Pod Conference
March 2011
Geselleschaft fur Fusschirurgie (Munich Germany)
Dec 2010
Midwest Pod Conf
Apr 2010
Arthrex Foot & Ankle
June 2010
APMA Ann'l Meeting, Seattle, WA
July 2010
IPMA Ann'l Meeting
Sept 2010
Geselleschaft fur Fusschirurgie(Munich Germany)
Dec 2009
NYCPM Geriatric Conf
Oct 2009
Midwest Podiatry Conf
Mar 2009
Geselleschaft fur Fusschirurgie(Munich Germany): Sesamoidectomies in athletes, Endoscopy
December 2008
Arthrex/AAPSM Foot & Ankle Surgery in the Athlete
October 2008
Luebeck (Germany): Endoscopy, Calcaneal Osteotomies, FHL transfer
September 2008
Midwest Podiatry Conference: Endoscopic Gastrocnemius Recession
March 2008
Geselleschaft fur Fusschirurgie: Complications with Achilles tendon surgery
December 2007
Am. Ortho Soc Sports Medicine Ann'l Meeting: Talar Articular Injuries
July 2007
Univ of Calgary Foot & Ankle Update
June 2007
Am Coll of Foot & Ankle Surg Ann'l: Current techniques in "OCD" repair; Endoscopic Gastrocnemius Recession, Midfoot pain in athletes: Case studies
2007
Grand Rounds: Kaiser Bay-area Residency program: Navicular fractures
2007
Grand Rounds: San Diego Scripps Residency Program: Achilles, Revision Surgery
2007
NYCM AAPSM Sports Med Day
2007
Midwest Podiatry Conference: Hallux Rigidus in athletes, Rehabilitation of Achilles & Lisfranc's injuries, Ankle Allografts
Wound Complications with Achilles Tendon Surgery: a report on 219 cases (Poster/Abstract presented by Nic Maffulli MD, PhD @ the British Orthopaedic Foot & Ankle Society, 2006)
2007
Fusschirurgie: Munich Germany: Subtalar Arthoereisis
2006
Western Pod. Conference: Implantable Bone Stimulators, Equinus & the Athlete
2006
International Foot & Ankle Symposium: Arthroereisis
2006
AAPSM Student's Day @ CSPM: Treating Elite Athletes
2006
Midwest Podiatry Conference: Endoscopic Gastrocnemius Recession
2006
Grand Rounds: Yale University Medical Ctr: Implantable Bone Stimulators
2006
Grand Rounds: Harvard/Beth Israel/Deaconess: Implantable Bone Stimulators
2006
Am College Foot & Ankle Surgeons Ann'l: "Cast or Cut: Achilles Ruptures, Sports Medicine Injuries"
2006
California School of Podiatric Medicine: Student ACFAS Day
2006
Fusschirurgie: Munich, Germany: Ankle Equinus, Achilles, Plantar Fasciitis& Stress Fractures, Arthrex Techniques
2005
International Flatfoot Symposium: Lab instructor for flatfoot techniques.
2005
Northwest Podiatry Conference: Ankle Equinus, Peroneal Tendonopathy, Lisfranc's Pathology
2005
Midwest Podiatry Conference: Foot & Ankle Surgery in Athletes, Lisfranc's Pathology
Univ. of Wisconsin Podiatry Meeting: Achilles & Peroneal Tendonopathy, Lisfranc's Pathology
2004
Am College Foot & Ankle Surgeons Ann'l: Achilles Tendon Imaging, Achilles Tendon Surgery, Endoscopic Gastrocnemius Recession
2004
Midwest Podiatry Conference: Ankle Equinus, Sesamoiditis
2004
Fusschirurgie: Munich, Germany: Sesamoidectomy, Subtalar Arthroresis, MRI of the Foot & Ankle in Sport
2003
Western Podiatric Medical Congress: Lis Franc's Pathology, The Equinus Debate
2003
Midwest Podiatric Conference: Endoscopic Gastrocnemius Tenotomy, Lis Franc's Pathology, 1st MPTJ Pathology in Athletes, The Sports Medicine Patient
2003
ACFAS: Sports Medicine Workshop, Tendon Repair Workshop
2003
AAPSM Sports Medicine Day @ CSPM: Soccer, Basketball & Baseball Injuries
2003
German Foot Association: Achilles, Endoscopic Gastrocnemius Tenotomy, Sesamoidectomy
2002
SCPM/Northwest Pod Meeting: Achilles & Peroneal Tendonopathy
2002
Am Pod Med Assoc: Running Injuries
2002
German Foot Association: Rearfoot Fusions & Osteotomies, Flatfoot Surgery
2002
Am Coll Foot & Ankle Surg Ann'l Meeting: Sports Medicine Track (Stress Fractures)
Posters: Tarsal Coalitions; Endoscopic Gastrocnemius Tenotomy
2002
University of Calgary Foot & Ankle Seminar: Endoscopic Gastrocnemius Tenotomy; Peroneal Tendonopathy
2002
Midwest Podiatry Conference: Tarsal Coalitions; Pearls of Podiatric Practice; Pearls of Flatfoot Surgery
2002
Am Orthopedic Society for Sports Medicine: Results of Achilles tendonopathy surgery on elite and sub-elite track athletes. @ AAOS (3/3/01 San Francisco, CA)
2001
Am Coll of Foot & Ankle Surgeons Ann'l Meeting: Sports Medicine Track (2/9-10/01 New Orleans, LA)
2001
Midwest Podiatry Conference: Chronic Achilles Tendonopathy (4/26/01 Chicago, IL)
2001
Western Podiatry Congress : Heel Pain in the Athlete; Stress Fractures (5/24/01 Los Angeles, CA)
2001
CCPM Sports Med Course: Achilles & Peroneal Tendonopathy (4/03/01 San Francisco)
2001
EBI Forum Chair: Stress Fractures, Achilles Tendonopathy (6/08/01 NJ)
2001
Am Pod Med Assoc. Ann'l Meeting: Achilles Tendonopathy; Soccer, Basketball & Football Injuries (8/16-17/01, Chicago, IL)
2001
German Association of Foot Surgery: Achilles Tendonopathy; Tarsal Coalitions; Effects of Non-Wt Bearing on 1st Met Osteotomy; Bioabsorbable Fixation (12/15-16/00 Munich Germany)
2000
Am Coll of Foot Ankle Surgeons Ann'l Meeting: Guest Lecturer, Sports Medicine Track & Abstract Presenter
2000
USA Track & Field Sports Medicine Committee Scientific Session "Pushing the Envelope: how fast an athlete can & cannot return to running"
Guest Lecturer, CCPM Sports Medicine Course
2000
Western Podiatry Congress: Sports Medicine Track
2000
Chairman, Foot & Ankle Update Fundraising Meeting for SCPM & NWPF
2000
Am Coll of Foot Ankle Surgeons Annual Meeting: Guest Lecturer, Sports Medicine Track
1999
Guest Lecturer, Montana State Meeting
1999
Guest Lecturer, Oklahoma State Meeting
1999
Guest Lecturer, "Essentials of Practice", CCPM
1999, 2000
Lab Instructor, "Sports Medicine & MRI"
1999
"Stress Fractures, Peroneal Tendon Abnormality and Retrocalcaneal Pain," SCPM Summer Meeting August
1998
EBI Podiatry Forum March
1998
"Peroneal Tendon Tears and Ankle Instability," American College of Foot and Ankle Surgeons Annual Meeting.
February 1998
"Running Injuries," American Academy of Podiatric Sports Medicine Annual Meeting
September 1997
"Long Term Results of Trauma to Lisfranc's Joint" and Ludloff Osteotomy," American College of Foot and Ankle Surgeons Annual Meeting.
February
"Use of Mitek Anchors in Foot and Ankle Surgery," Northwest Podiatry Foundation
Feb/Oct 1995
"Retrospective Analysis of the Valenti Procedure," "Surgery for Chronic Achilles Ruptures," American College of Foot and Ankle Surgeons Annual Meeting
Feb 1994
"Deformation Characteristics of Midsoles," Dept. of Bioengineering, Rensselaer Polytechnic Institute, Troy, NY
1987-1988
---
INSTRUCTIONAL COURSES (Instructor):
| | |
| --- | --- |
| Shockwave: Latin American Shockwave Society | Oct 2022 |
| AAPSM Ankle Tendon Workshop | March 2017 |
| Cadaver Lab AAPSM | Oct 2016 |
| PRP & Ultrasound Midwest Pod Conf | Apr 2016 |
| PRP & Ultrasound Midwest Pod Conf | Mar 2015 |
| Cadaver Lab: Calcaneal Fractures, osteotomies, Ankle fractures & 1st Ray | Apr 2014 |
| Cadaver Lab: Achilles Tendon Surgery Western U | Sep 2013 |
| Cadaver Lab: Arthroscopy GFFC | Sep 2012 |
| Cadaver Lab: Achilles Tendon Surgery Western U | Feb 2012 |
| Cadaver Lab: Arthrex Road Show, Universal City CA | Jan 2009 |
| Cadaver Labs: Geselleschaft fuer Fusschirurgie: | Sep & Dec, 2008 |
| Cadaver Labs 2008: PacMed/Arthrex | Feb, May & October, 2008 |
| Cadaver Lab: GFFC, SF, CA | Mar. 2006 |
| Cadaver Lab: Livermore, CA (Arthrex) | Sept. 2006 |
| Cadaver Lab: Seattle, WA | Oct. 2006 |
| Cadaver Lab: Kerlan-Jobe, CA | Nov. 2006 |
| Cadaver Lab: German Foot & Ankle Association Hawaii | Oct. 2005 |
| Cadaver Lab: Palo Alto, CA | Oct. & Nov. 2005 |
| Cadaver Lab: Midwest Pod Conf, Chicago | Apr 2005 |
| Cadaver Lab: Livermore, CA (Arthrex) | May 2004 |
| Cadaver Lab: Naples, FL (Arthrex) | March 2004 |
| Cadaver Lab: Salt Lake City, UT (Arthroscopy, Endoscopy, Ex-Fix, Flatfoot) | May 2003 |
| Cadaver Lab: Western Pod Med Congress LA, CA (Endoscopy) | June 2003 |
| Cadaver Lab: German Foot Association, Luebeck, Germany | September 2002 |
| Cadaver Lab: SCPM/Northwest Pod Meeting, Martha's Vineyard, MA | June 2002 |
| Cadaver Lab: St. Lukes Hosp Residency, Denver, CO | May 2002 |
| Cadaver Lab: Menlo Park Surg Hosp, CA | May 2002 |
| Cadaver Lab: Palo Alto, CA (Arthroscopy, Endoscopy) | November 2001 |
| Cadaver Lab: Chicago, IL (Endoscopy) | August 2001 |
| External Fixation Lab. Parsippany, NJ | June 2001 |
| Cadaver Lab: MA (Arthroscopy, Endoscopy, Flatfoot) | August 2000 |
| Cadaver Lab: LA, CA (Achilles Surgery) | June 2000 |
| Workshop: Munich, Germany (1st Met Osteotomy) | December 2000 |
| Cadaver Lab: Seattle, WA (Achilles, Endoscopy, etc) | August 1999 |
| Cadaver Lab: MA (Misc. procedures) | August 1998 |
| Cadaver Lab: ACFAS (Anchor workshop) | Mar 1996 |
| Cadaver Lab: MA (Misc. procedures) | August 1995 |
---
INSTRUCTIONAL TRAINING COURSES
| | |
| --- | --- |
| AO Trauma with Hans Zwipp, MD Dresden, Germany | Dec 2004 |
| Agility Ankle Implant | Aug 2004 |
| ACFAS External Fixation | Feb 2004 |
| IM Nail (Midwest Pod Conf) | Apr 1999 |
| EBI External Fixation | Apr 1997 |
| ACFAS Ankle Arthroscopy | Mar 1995 |
| ACFAS Ankle Arthroscopy | Oct 1992 |
---
LECTURES/PRESENTATIONS
| | |
| --- | --- |
| PAMF Orthopedic Dept: Shockwave for bone | Oct 2020 |
| Nike Stanford | Mar 2018 |
| Presbyterian (Phil, PA) Hospital Grand Rounds | Feb 2018 |
| Hoka Coaches Clinic (Sacramento) | Feb 2018 |
| Silicon Valley Tri Club | June 2017 |
| PA USATF Anníl Banquet | Feb 2016 |
| Nike Running Club | Aug 2013 |
| Bay Area Summer Running Camp | July 2012 |
| Strawberry Canyon Track Club | Aug 2011 |
| SCPM Student Presentation on Sports Medicine | March 2011 |
| Google Corp | Jan 2011 |
| Running Clinic, Sportissimo | Oct 2010 |
| Nike Running | Oct 2009 |
| USATF Long Distance Podium Project: Foot & Ankle Injuries | Dec 2009 |
| PAMF Soccer Clinic | Oct 2008 |
| USATF Long Distance Podium Project: Foot & Ankle Injuries | Dec 2006 |
| CA NATA: Foot & Ankle Injuries in Sports | Nov 2006 |
| Coaches Clinic | Sep 2006 |
| USATF Long Distance Summit: Running Injuries | Dec 2005 |
| Sports Medicine/Athletic Training, San Jose State Univ. Instructor | Fall 2005 |
| USATF Long Distance Summit: Running Injuries | Dec 2004 |
| ASHA Running Club | July 2004 |
| Palo Alto Med Found. Comm. Lecture Series: Heel Pain | Feb 2004 |
| Palo Alto Run Club | Jan 2004 |
| USATF Long Distance Summit: Running Injuries | July & Dec 2003 |
| USOC Olympic Training Ctr: Athlete Eval & Lecture | Apr & Oct 2003 |
| Avenidas Center | Jan 2003 |
| Avenidas Center Seminar | Aug. 2001 |
| Team Sheeper Triathlon Camp | Aug. 2001 |
| Fifty Plus | March 2001 |
| Team in Training | Feb. 2000 |
| Palo Alto YMCA | January 1998 |
| Sun Microsystems | March 1998 |
| San Francisco Marathon Expo | July 1998, 1997, 1996, 1995 |
| USA Track and Field Trainers, NATA Annual Meeting | June 1996 |
| American College of Foot and Ankle Surgery, Mitek Anchor Workshop | March 1996 |
| USA Track and Field Sprint/Hurdles Coaches Seminar: Guest Lecturer | Dec 1995 |
| Northwest Podiatry Foundation, Stress Fractures and Mitek Anchors | Oct 1995 |
| SCPM Summer Meeting: Achilles Tendinitis, Stress Fractures and Orthoses | Aug 1995 |
| SLAC | May 1995 |
| Hewlett Packard Santa Clara, Common Foot Problems | May 1995 |
| Bay to Breakers, Running Injuries | May 1995 |
| Pacific Athletic Club, Common Foot Problems | Apr 1995 |
| City of Palo Alto, Running Injuries | Apr 1995 |
| Northwest Podiatry Foundation Meeting, Use of Mitek Anchors in Foot and Ankle Surgery, Surgery for Chronic Achilles Problems | Feb 1995 |
| Decathlon Club, Common Foot Problems | Jan 1995 |
| Physical Therapy Post-op Foot Surgery | Jan 1995 |
| Sun Microsystems, Common Foot Problems | Nov 1994 |
| Palo Alto Run Club, Running Injuries | Oct 1994 |
| Oracle Corp., Common Foot Problems | July 1994 |
| American Academy of Podiatric Sports Medicine, Stress Fractures, Achilles Problems | June 1994 |
| SRI Lecture, Common Foot Problems | Apr 1994 |
| Apple Computer, Running Injuries | Mar 1994 |
| Central Coast Podiatric Medical Society, Use of Mitek Anchors in Foot and Ankle Surgery | Mar 1994 |
| American College of Foot and Ankle Surgeons Annual Meeting, Results of the Valenti Procedure and Surgery for Chronic Achilles Problems | Feb 1994 |
| CME Update, ECH Podiatry and Primary Care Medicine | Dec 1993 |
| Run Club Lecture | Nov 1993 |
| Fleming Physical Therapy | Nov 1993 |
| AAPSM Sports Medicine Day at California College of Podiatric Medicine | Oct 1993 |
| Sequoia Center of Sports Health | June 1993 |
| Stanford Running Camp | Aug 1993 |
| Fifty-Plus Running Injuries | Apr 1993 |
| Sun Microsystems, Common Foot Problems | Mar 1993 |
| Podiatric Sports Medicine at Scholl College of Podiatric Medicine | Oct 1992 |
| AAPSM Sports Medicine Day at CCPM | Sept 1992 |
| Lecture at The Palo Alto Soccer Club | Aug 1992 |
| American College of Foot and Ankle Surgeons Annual Meeting: Valenti Procedure and Effects of Stretching the Gastrocnemius | Feb 1992 |
| Reach, Los Altos, Lecture to personal trainers | Feb 1992 |
| Foot Injuries on the Job, Mountain View Physical Therapy | Jan 1992 |
| Orthopedic Nurses Association Meeting at Stanford | Oct 1991 |
| Lecture at the Palo Alto Soccer Club | Aug 1991 |
| CCSP Lecture Series on the Foot and Ankle | July 1991 |
| Stanford University Athletic Department | June 1990 |
| Hewlett Packard Cupertino | May 1990 |
| CCPM Sports Medicine Class Athletic Footwear | Feb 1990 |
| Department of Family Practice, ECH Common Foot Problems | Jan 1990 |
| Palo Alto Run Club | Dec 1989 |
| Athletic Footwear, SCPM Biomechanic Class | Mar 1989 |
---
LAY ARTICLES
| | |
| --- | --- |
| Achilles Tendon rehabilitation Lower Extremity Review | Oct 2011 |
| "Kinesio Tape" Runner's World | Feb 2009 |
| "Current perspectives of Podiatric Sports Medicine" Podiatry Today | Dec 2008 |
| "Podiatry & Research", Podiatry Management, by Mark Haspel | Jan 2005 |
| "Secrets to treating stress fractures about the ankle", Podiatry Today | June 2002 |
| "Runners Ten Commandments to Staying Healthy," Running Times | October 1998 |
| "Pre and Post Marathon Tips," Pacific Association Newsletter | Nov/Dec 1997 |
| "Achilles Heel Revisited," Pacific Association Newsletter | May/June 1997 |
| "Plantar Fasciitis," Pacific Association Newsletter | May/June 1996 |
| "Ankle Sprains and Calf Cramps," Pacific Association Newsletter | Nov/Dec 1995 |
| "Protecting Those Puppies," City Sports | |
| "Guidelines for Resuming Physical Activity," American Athletes | Summer 1992 |
| "Care and Prevention of Stress Fractures," American Athletes | Winter 1991 |
| "Everything You Wanted to Know About Orthotics But Were Afraid to Ask," RunCal | Mar/Apr 1990 |
| "ShinSplints," RunCal | |
| "Your Achilles Heel," RunCal | |
| "Why Do Some People's Toes Look Different?" RunCal | |
| "Adolescent Injuries," RunCal | |
| "Taking Care of Injuries at Home," RunCal | |
| "Where Did You Get Those Orthotics?" RunCal | |
---
INTERVIEWS
| | |
| --- | --- |
| San Francisco Marathon, Prime Network | July 1996 |
| San Jose Mercury News, Orthoses | Sept 1995 |
| Walking Magazine, Shin Splints | Sept 1994 |
| Outside Magazine, Orthoses | Aug 1994 |
| Palo Alto Weekly Cover Story: Master of the Agony of the Feet | June 1993 |
| ESPN, Road Race of the Month | 1992 |
| Running Times, The Orthotics Revolution | Nov 1992 |
| KGO-TV SF, Marathon | Aug 1992 |
| Palo Alto Times Tribune, Choosing Running Shoes | Aug 1991 |
| Chicago Tribune, Summer Running Shoes | Aug 1986 |
---
MEMBERSHIPS
Hospital Staff: Stanford University, El Camino, Menlo Park Surgical Hospital, Palo Alto Surgecenter, Fremont Surgery Center
American College of Foot and Ankle Orthopedics and Medicine
1994-2008
William Stickel Society
1994-Present
American Academy of Foot and Ankle Surgeons (Fellow)
1990-Present
American Academy of Podiatric Sports Medicine (Fellow)
1990-Present
American College of Sports Medicine
1989-Present
CA and American Podiatric Medical Association
DEA# BS1590214 CA DPM License# E-3588A (Ankle Certification)
1989-Present
---
ATHLETIC EVENT EXPERIENCE
| | |
| --- | --- |
| NCAA Division II Nat'l Champs, Sacramento, | November 2019 |
| NCAA Division I WesternRegion Track Champs, Sacramento, CA | May 2019 |
| NCAA Western Regional Championships | May 2018 |
| USA Track & Field National Championships, Sacramento, CA | June 2014 |
| US Figure Skating National Champs | 2012 |
| Podiatrist, Nike Oregon Project | 2006-current |
| Podiatrist, Golden State Warriors | 2009-2011 |
| Podiatrist, San Jose Earthquakes | 2008 |
| Podiatrist, USATF Club Cross Country Championships | 2006 |
| Podiatrist, NCAA Track & Field Championships | 2006 |
| Podiatrist, NCAA Track & Field Championships | 2005 |
| Podiatrist, US Olympic Track and Field Trials, New Orleans, Louisiana | 2004 |
| Podiatrist, US Track & Field Championships, Stanford, CA | 2002/2003 |
| Podiatrist, US Olympic Track & Field Trials, Sacramento, CA | 2000 |
| Podiatrist, Jr. Olympic National Championships, San Jose, CA | 1995 |
| Member USA Track and Field Sports Medicine Executive Committee | 1993-2000 |
| USA Track and Field Champs (Staff) | 1993, 1994, 1995, 1997 |
| Podiatrist, US Olympic Track and Field Trials, New Orleans, Louisiana | 1992 |
| Team Podiatrist, St. Francis (Mt. View), Gunn (Palo Alto) and Los Altos High Schools | 1989-Present |
| Junior Olympic Regional Championships | 1994 |
| Team Podiatrist, Stanford University | 1989-1992 |
---
PRODUCT CONSULTANT
| | |
| --- | --- |
| Trimed, Medpack(Royalty) | 2011-current |
| Storz Medical AG/Curamedix (Speaker, researcher) | 2006-current |
| Alter-G, Inc (Advisory Board, Stock holder) | 2007-current |
| Arthrex, Inc.(Royalty) | 2004-current |
| Teleflex formerly KMedic (Saxena Bone Grafting Retractor) (Royalty) | 1999-current |
| Depuy Synthes Mitek (Instructor, Lecturer) | 2013, 2018-2021 |
---
RESIDENCY
Veterans Administrative Medical Center-Westside, Chicago, Illinois
Podiatric Surgical Resident: Performed and assisted on approximately 400 surgical foot procedures. Additional rotations through Anesthesia, Emergency Room and Pathology Departments at Westside VA, along with Pediatric and General Orthopedics at Cook County hospitals. Served as Team Podiatrist for Stevenson High School in Prairie View, Illinois
July 1988-July 1989
William M. Scholl College of Podiatric Medicine, Chicago, Illinois
1984-1988 D.P.M.
Cum Laude, B.S. Biological Sciences
1988
---
AWARDS
| | |
| --- | --- |
| American College of Foot Orthopedists' "Outstanding Student in Foot Orthopedics" | 1988 |
| Berman Award for Proficiency in Orthopedics (Biomechanics) | 1988 |
| Who's Who Among Students in American Universities & Colleges | 1988 |
| Outstanding Young Men of America | 1986-1987 |
| Dean's List | 1984-1987 |
| Northlake Podiatry Department Educational Corporation Scholarship | 1987 |
---
CLERKSHIPS AND EXTERNAL PROGRAMS
| | |
| --- | --- |
| Palo Alto Medical Foundation, Palo Alto, California (Department of Sports Medicine) | 1988 |
| Cook County Hospital, Chicago, Illinois (Foot and Pediatric Orthopedics Service) | 1987-1988 |
| Northampton V.A., Northampton, Massachusetts (Department of Podiatric Medicine) | 1988 |
---
PODIATRY SCHOOL ACTIVITIES
President, Treasurer and Member, Sports Medicine Club
Organized and presented 26 lectures and workshops by leading podiatrists, orthopedists and other health professionals for the largest club at S.C.P.M. Authored the club's by-laws, established research grants for students and the first Annual Orthoses Seminar, allocated funding for a treadmill and allowed students from local medical schools to participate in club activities.
1984-1987
Founder and Director, Summer Running Clinics
Funded this free community service project by obtaining a grant from PUMA, which covered all advertising and equipment costs. Clinics are conducted at major Chicago road races, increasing the visibility and patient load of S.C.P.M. by providing injury prevention, footwear and training advice.
1986-1987
Member, Phi Alpha Pi Fraternity
1985-1987
Member, Podopediatrics Club
1985-1986
Tutor, Anatomical Sciences and Biomechanics
1985-1987
---
UNDERGRADUATE EDUCATION
| | |
| --- | --- |
| Washington University, St. Louis, Missouri | 1982-1984 |
| BA in Psychology | 1984 |
| | |
| Extracurricular Activities: | |
| Dean's List | 1984 |
| Cross Country and Track Team | 1982-1983 |
| Research: "EDG: A Change in Podiatry?" | 1984 |
| | |
| University of California at Davis, Davis, California | 1980-1982 |
| Major: Biological Sciences | 1980-1982 |
| | |
| Extracurricular Activities: | |
| Dorm Co-President | 1980-1981 |
| Cross Country and Track Team | 1980-1981 |
| Volunteer: Physical Therapy Assistant | 1981-1982 |
| Research in Psychology: "Sex Differences and Age Differences" | 1982 |
| | |
| Henry M. Gunn High School, Palo Alto, California Graduated | 1980 |
---
PERSONAL INFORMATION
Born: Palo Alto, California, June 5, 1962
Family: Married, three children
Hobbies: Sports, cooking and writing
Languages: English, German (B2), French (B1), Spanish (A1), Italian (A1), Hindi
---
| | |
| --- | --- |
| Some of the links on this page may require Adobe Reader to view them. The Adobe Reader is available for download free of charge, by clicking on the logo. | |
---
Home | About Dr. Saxena | Articles | Appointments | Shoe List | Orthoses
Medial Distal Tibial Syndrome (Shin Splints) | Sever's Disease/Calcaneal Apophysitis
Ankle Sprains & Calf Strains | Injury Prevention | Heel Pain | Achilles Heel | Ankle Stretching, Rehabilitation & Taping
Return to Sports After Injury | Cycling | Marathons | Videos | Recommended Books | Links
Friends & Patients | Legal Notice | Privacy Statement | Site Map
Copyright © Amol Saxena, DPM - Sports Medicine & Surgery of the Foot & Ankle
Web Site Design, Hosting & Maintenance By Catalyst Marketing Innovations, LLC/ Worry Free Websites