Dr. Amol Saxena, DPM
Palo Alto Foundation
Medical Group
Dept. of Sports Medicine
3rd Floor, Clark Building
795 El Camino Real
Palo Alto, CA 94301
Office: 650-853-2943
Fax: 650-853-6094
E-Mail
Map | Directions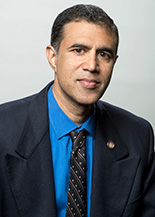 Foot Related Injuries & Treatments
Achilles Heel
Just mention Achilles tendon to a runner or a tennis player and you'll see him squirm. Achilles tendon problems are no fun to deal with and often take a long time to get over. Why? Because the Achilles tendon is the most important tendon in pulling you up on your toes and because it has minimal blood supply. The tendon comes from two calf muscles, the gastrocnemious and soleus muscles. The heel cord that attaches to your heel bone is the actual tendon two third's of the way down your leg. There are a myriad of injuries associated with this tendon; I see 150 cases of Achilles-related pain a year.
Achilles tendon tears or ruptures are fairly common in middle-aged males, particularly those involved in ballistic sports such as basketball and racquet sports. Generally a patient feels a "pop," as if hit in the back of his leg and then he can't stand on his toes. People who don't stretch their calves much, who have chronic Achilles pain, or who have had steroids (particularly injections for tendonitis and bursitis) are more susceptible to rupture. Athletic patients should have the ruptured Achilles tendon repaired surgically so that they have as close to normal strength.
Achilles tendonitis and tendonosis (a chronic case of tendon swelling) are by far the most common ailments I treat. The tendon feels bruised, stiff or sore, especially in the morning and the early part of a run. But during the majority of the run or sport the Achilles does not hurt; the patient thinks the injury can't be too bad and fools thimself into a false sense of security. As the condition gets worse a burning sensation may develop, and, at this point, sports activity should stop. Unfortunately, patients continue and scar tissue develops within the tendon. There is often a partial tearing, resulting in the chronic swelling of tendonosis. Typical initial treatment includes rest, heel lifts, anti-inflammatories, ice, physical and massage therapy, and sometimes orthoses. Surgery is reserved for resistant cases.
Percutaneous Achilles Tendon
Achilles paratendonosis is inflammation of the fatty covering of the Achilles tendon. This condition often presents as diffuse swelling of the tendon, and, in contrast to tendonitis, it usually gets worse with activity. Massage directly on the tendon, heel lifts and ice all seem to make paratendonosis worse. Calf (not tendon) massage, physical therapy, and complete rest seem to have the best effects. Chronic cases do very well with surgery. One should note that tendonosis and paratendonosis can co-exist. This is especially common with runners who have ignored symptoms for more than a year.
Other common conditions of the Achilles tendon is a heel spur (tendo-calcinosis), "pump bump", and bursitis. Any tendon or ligament can calcify when it undergoes stress. Occasionally the Achilles calcification fragments or breaks making it symptomatic. If the usual measures mentioned above for tendonitis don't calm symptoms down, then surgery may be recommended. This is more likely if the calcification is fragmented and toe stands cause pain. These "functional" ruptures can happen with any Achilles problem, becauseŠyou guessed itŠpatients ignored the symptoms (and are easy to spot limping into the office).
Pump Bumps and bursitis in the back of the heel are due to bony prominances on the heel bone itself. High-heeled shoes ("pumps") were once thought to cause the problem, but in fact anyone who has an irregularly shaped heel bone that "rocks and rolls" (pronates or supinates excessively) and who wears a hard contoured heel cup in their shoe is susceptible. Bursitis is an inflammation of the sack or cushion that protects the bone from pressure. Conservative measures mentioned above along with accommodative padding are helpful. Surgery is less likely for these conditions than for the others mentioned above. I usually don't recommend surgery for the chronic Achilles conditions unless patients have tried six months or more of conservative treatment. When surgery is indicated, I've found it to be 95% successful, with the remaining 5% still having some discomfort, decreased activity level, or the need for additional surgery.
Patients must rule out that the "Achilles" problem is not a stress fracture of the heel bone, a nerve problem, nor a deep ankle injury, all of which may refer pain to the Achilles region. As with any health problem, the treatment is more successful with an accurate diagnosis.
The problems mentioned in this article can be prevented by doing the wall stretch (held for 30 seconds with the knee straight and then bent), icing when sore for 5-10 minutes, and wearing appropriate shoes. Achilles tendon problems don't have to be your weakness. Don't fool yourself thinking it can't be that bad if it doesn't hurt while you exercise. Get the injuries treated early to minimize downtime and potential complications.
---
| | |
| --- | --- |
| Some of the links on this page may require Adobe Reader to view them. The Adobe Reader is available for download free of charge, by clicking on the logo. | |
---
Home | About Dr. Saxena | Articles | Appointments | Shoe List | Orthoses
Medial Distal Tibial Syndrome (Shin Splints) | Sever's Disease/Calcaneal Apophysitis
Ankle Sprains & Calf Strains | Injury Prevention | Heel Pain | Achilles Heel | Ankle Stretching, Rehabilitation & Taping
Return to Sports After Injury | Cycling | Marathons | Videos | Recommended Books | Links
Friends & Patients | Legal Notice | Privacy Statement | Site Map
Copyright © Amol Saxena, DPM - Sports Medicine & Surgery of the Foot & Ankle
Web Site Design, Hosting & Maintenance By Catalyst Marketing Innovations, LLC/ Worry Free Websites