Dr. Amol Saxena, DPM
Palo Alto Foundation
Medical Group
Dept. of Sports Medicine
3rd Floor, Clark Building
795 El Camino Real
Palo Alto, CA 94301
Office: 650-853-2943
Fax: 650-853-6094
E-Mail
Map | Directions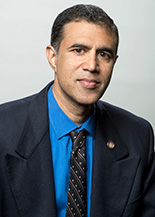 Grand Rounds: Lisfranc's Injuries. Lower Extremity Review.
Moderator: Amol Saxena, DPM, FACFAS
Department of Sports Medicine
Palo Alto Medical Foundation
Palo Alto, CA
Panel: David Thordarson, MD
Chief Foot and Ankle Reconstructive Service
Associate Professor
Department of Orthopedics, USC
Los Angeles, CA
Richard Bouche, DPM, FACFAS
Department of Sports Medicine
Virginia Mason
Seattle, WA
Richard Pulla, DPM, FACFAS
Department of Orthopedics
Cook County Hospital
Chicago, IL
Steven Bernstein, DPM, FACFAS
Aventura Orthopedic Care and Sports Center
Residency Director
Columbia Aventura Hospital
Aventura, FL
---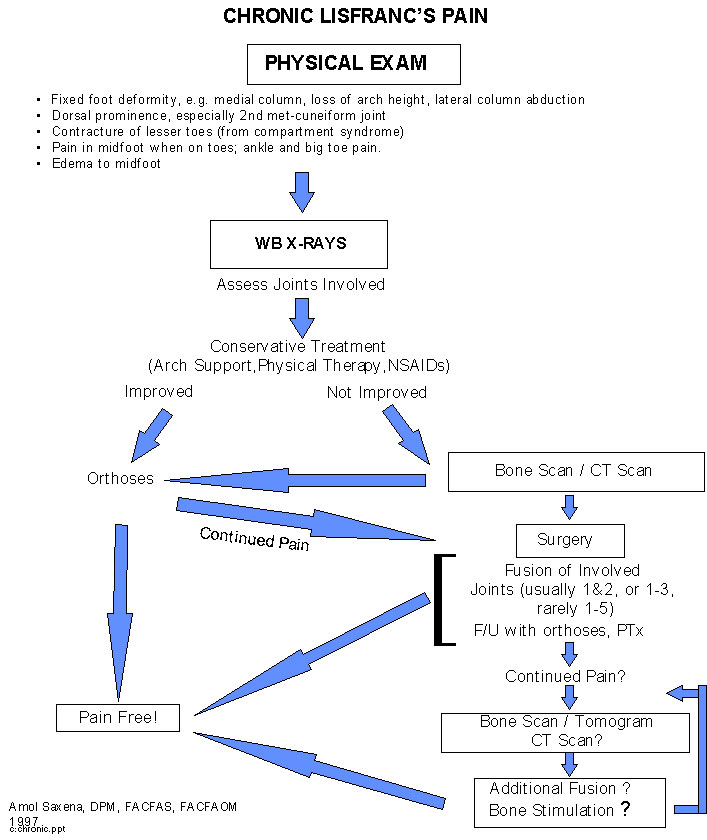 ---
AS: Dr. Thordarson, you have had a significant amount of experience managing Lisfranc's injuries, especially acutely. What is your typical treatment protocol?
DT: Acutely, patients should be evaluated for skin integrity, degree of swelling, and rule out compartment syndrome (with > 30 mmHg appropriate compartment release should be performed). The patient should be evaluated for the possibility of Charcot's arthropathy. Radiographically, I orient the x-ray beam perpendicular to the dorsum of the foot to adequately visualize the tarsometatarsal joint.
AS: Do you use CT or MRI?
DT: I do not use these routinely. In patients with > 1 mm displacement I open reduce them. I do not feel adequate reduction can be achieved with closed reduction nor with percutaneous pin fixation. I use screw fixation on the first and second metatarsocuneiform joints routinely, and if needed across the third metatarsocuneiform joint (or a percutaneous pin if only mildly unstable).
If one suspects a cuboid (nutcracker-type) impaction fracture, this can block reduction of all five rays due to lateral column shortening. The cuboid must be distracted and bone grafted. I will use percutaneous K-wires across the fourth and fifth metatarsal cuboid joint. I have recently started prospectively evaluating PLA (absorbable) screws comparing to stainless steel screws; I have been impressed with the initial series of five cases.
AS: How soon do you perform the ORIF?
DT: Five to 14 days after the initial edema subsides. I will keep my patients elevated initially.
AS: Drs. Bernstein and Pulla, you both see a lot of acute trauma. What are your preferred methods?
SB: I used to use MRI but now pretty much use plain films and CT to evaluate the bone fragments and degree of injury. If there is marked comminution of the metatarsal bases, I will proceed with primary fusion. I basically use the same technique Dr. Thordarson uses as described by Hansen. With screws, I keep the patient non-weightbearing for six to eight weeks. I will remove the screws at four months if needed, especially the diastasis screw.
AS: Dr. Pulla, I recall the second surgery I ever did ten years ago with you. It was a Lisfranc's ORIF with K-wires? How do treat these injuries now at Cook County Hospital?
RP: At that time we were using threaded K-wires. The pitfall here was that exposed wires had a tendency to develop pin-tract wounds and the majority of buried wires were becoming a local irritant to the patient at the 4-6 week postoperative period. Because of this, hardware removal was required, at times earlier than anticipated. We found that approximately 75 percent of these patients developed post-traumatic arthritis. As Dr. Thordarson says, the maintenance of a stable reduction was not as good. We then attempted to use plates, which accomplished a stable reduction, but they also posed a problem with hardware irritation leading to removal. We are now using 3.5 cortical screws with less need for untimely removal. Due to the nature of this injury, swelling is a complicated problem, which can be controlled early with elevation and compression dressings, later compression stockings prove to be beneficial
DT: I will individualize whether to ORIF or primarily fuse patients with those presenting three to six months post injury based on their age. If the patient is more than six months post injury, I routinely fuse them.
AS: What is the instance of post traumatic arthritis?
DT: I feel 75 percent of the patients with missed Lisfranc's dislocation will fail conservative treatment and will need operative intervention. (Fig. 1 A&B)
RB: In my practice, I see a high volume of undiagnosed "midfoot" sprains not only involving Lisfranc's bit also the midtarsal, intertarsal, and intermetatarsal joints. These injuries are significant, especially when they involve a complete ligamentous disruption with joint instability (grade 3) or complete ligamentous disruption with fixed joint subluxation (grade 4). In my experience, these higher grade midfoot injuries, if undiagnosed and untreated, will all predictably result in traumatic arthritis over a period of time. In an active patient, this unrecognized injury will preclude further athletic activity involving running and ultimately will require an arthrodesis procedure of the involved joint(s). These injuries must be picked up in the acute or subacute setting to avoid this situation! In early setting appropriate conservative and/or surgical treatment is highly successful thus avoiding significant traumatic arthritis.
AS: Of course, you must keep in mind we do not see the patients in our office that are not having problems. How long after an ORIF would you wait until deciding to do a fusion?
DT: I give my patients up to one year for both ORIF and fusion. I do follow them up with arch supports. Most of the patients have mild to moderate pain with prolonged standing and walking and are limited in high impact activities.
SB: I agree. It seems that it takes a year to filter out a lot of the problems with these injuries. I have also found rocker soles with the rocker placed proximal to the metatarsal heads like some of the BK cast walking boots work better than orthoses. I evaluate the fusions with tomograms. The other studies are obscured by metal fixatives. I do not have any experience with absorbable screws, but those may obviate that particular problem.
AS: Like you Dr. Bernstein, I have also noted that patients do have difficulty getting up on their toes. Sometimes rocker soles similar to what other people on this panel have mentioned are a good idea. I have also found that the swelling is less persistent in utilizing the Air Cast cryo-cuff that is designed for the ankle.
Dr. Pulla, what do you do to manage your patient post operatively?
RP: I will keep the patient in a short leg cast nonweightbearing for 4-6 weeks, followed by progressive weight bearing in a short leg cast for an additional 4-6 weeks. After which the patient is treated with aggressive physical therapy with anti-inflammatory nonsteroidals for patient discomfort. The patient is then followed up with accommodative orthoses.
AS: What about any technique tips on fusion?
DT: I use local bone grafts, such as distal tibia or calcaneus, or use iliac bone harvested by trephine for larger needs. I will keep the patient non-weightbearing six to eight weeks, and then additional weight bearing in a boot for six to eight weeks. I base fusion sites on symptoms and radiographic appearance. I will not fuse a lateral rays for mild to moderate DJD to preserve motion in these joints
SB: Previously, I used iliac crest bone. I tend to use more calcaneal bone now harvested by trephine. I fill the donor site with Interpore coral graft material. I have filled fusion sites with this material as well, but no longer do so. I found that sprains do better post fusion than the fracture/dislocations. Like
Dr. Thordarson, I rarely need to fuse the lateral column. (Fig. 2)
AS: How do you evaluate the Lisfranc's sprain?
SB: I'll do a stress abduction x-ray often without anesthesia. (Fig. 3A&B) If it is symptomatic post acutely, I will send them to physical therapy. If they are still symptomatic, I will proceed with fusion. Unfortunately, most of the acute injuries are unrecognized and undertreated.
RB: Evaluation of midfoot sprains in the acute or subacute setting requires a high index of suspicion and a proper evaluation in the form of history, physical examination and appropriate diagnostic testing. Physical examination will include manual stress testing in various planes depending on the specific joint and ligament(s) involved. For the Lisfranc joint, generally a plantarflexion, abduction and adduction stress is applied. (Figures 4A-D) Diagnostic imaging studies include: standard weight bearing x-rays with comparison views with the other foot as necessary, static or dynamic stress views with stress applied as mentioned above (a total ankle block is helpful in the acute or subacute setting to prevent guarding and minimize pain) and CT scanning if further elucidation of the problem is desired. Diagnostic injections are inexpensive and can be useful to localize the involved joint. In the chronic setting, a bone scan can be helpful in localizing the extent of traumatic arthritis
AS: What significant or abnormal diastasis would require ORIF or fusion?
SB: With > 2mm diastasis in acute injuries, I percutaneously screw fixate these sprains. I use a towel clamp to temporarily reduce the first and second metatarsal bases and confirm this via C-arm. I then place 3.5 cortical screws obliquely across the diastasis and across the inner cuneiform joints if needed. (Figure 5)
RB: In athletic patients, with either a grade 3 or 4 injury to the Lisfranc joint, I would presently recommend ORIF with anatomic reduction and stabilization of the involved joint(s) with either .062" K-wires or 3.5 mm cortical screws (to be used as position screws and not compression screws!). Initially, I was cast immobilizing patients with grade 3 injury for up to 12 weeks (NWB with crutches for 6-8 weeks followed by 2-4 weeks in SLW) and had reasonable results but did have some failures. To make treatment more predictable, especially in an athletic individual, ORIF with post-operative cast immobilization for 12 weeks (NWB with crutches for 6-8 weeks followed by 2-4 weeks SLW) is recommended. Before the patient walks in regular shoes the fixation is removed to prevent potential fixation breakage.
In my opinion, any time you can demonstrate gapping if a midfoot joint, it is indicative of pathology until proven otherwise. Always consider comparative views with the normal side if there is a question and use whatever diagnostic imaging studies are available to confirm your suspicions.
AS: What about the fleck sign? What is its significance as it relates to treatment?
RB: Concerning the "fleck sign," I feel it is a very important objective radiographic finding and indicates to me that the severity of injury is at least a grade 2 (partial ligamentous disruption). Clinically, the objective finding of ecchymosis would confirm the grade 2 (or higher) injury. With a grade 2 injury, manual stress views would not generally reveal joint instability nor would stress views as they would in a grade 3 or grade 4 injury. This differentiation is crucial as the grade of injury will dictate treatment. In my experience, with grade 1 (stretching injury with minimal to no ligamentous disruption – no ecchymosis) or grade 2 injuries, conservative treatment is the treatment of choice, For grade 1 injuries, protection (walking boot) is initiated for 3-6 weeks. Grade 2 injuries are treated with cast immobilization for 4-6 weeks (3 weeks NWB and 1-3 weeks in a SLW cast).
AS: How does the panel feel about the results in literature from fusion studies (70% good to excellent)1 and down time from sprains (4.25 mo).2 I have found similar results in my initial study, but there can be large ranges. 3
RB: In the acute/subacute setting, conservative treatment is highly successful for grade 1 and 2 injuries but can take up to 6-9 months for complete healing even when the diagnosis is promptly established and appropriate treatment is initiated. Grade 3 and 4 injuries, if ORIF'd and appropriately protected post operatively, can take up to one year to heal. In the chronic setting when arthrodesis procedures are performed, the more joints that are arthrodesed the more guarded the prognosis should be, in my experience. In the case of the Lisfranc joint, patients who just have the first of first and second metatarsal cuneiform joints fused generally do well. When the third metatarsal cuneiform or other midfoot joints (i.e., naviculocuneiform, first-second cuneiform joint, etc.) are fused in addition to the first and second metatarsal cunieform joints, the result is less predictable. Midfoot sprains (including the Lisfranc joint) cannot be compared to lateral ankle sprains as management and time for healing is quite different.
AS: I think that is an excellent "take home" point. Lisfranc soft tissue injuries are significantly more debilitating than ankle sprains. Thank you, gentlemen.
FIGURE LEGENDS
Figure 1 A&B: Patient six months post "missed" Lisfranc's fracture/dislocation. A) Note diastasis and lateral shift of right metatarsals as compared to uninvolved left foot (B).
Figure 2 Patient with comminuted intra-articular first cuneiform fracture and diastasis treated with ORIF and primary fusion. Note Interpore graft material.
Figure 3A "Stress Fluoro" views of symptomatic left foot revealing diastasis.
Figure 3B Post-operative diastasis reduction and inter-cuneiform fusion.
Figure 4A Weightbearing AP view: Note asymmetry of left fourth metatarsal-cuboid articulation.
Figure 4 B&C Stress plantar flexion views of symptomatic left fourth metatarsal-cuboid joint versus right.
Figure 4D Post-reduction of left fourth metatarsal-cuboid joint with absorbable pin fixation.
Figure 5 Percutaneous diastasis reduction. Photo courtesy of S. Bernstein.
References:
Sangeorzan B, Vieth R, Hansen S. Salvage of Lisfranc Tarso-metatarsal Joint by Arthrodesis. Foot and Ankle vol. 10 (4193-4200) 1990.
Curtis M, Myerson M, Szura B. Tarso-metatarsal Joint Injuries in the Athlete. Am J. Sports Med vol. 21 (issue 4:497-502) 1993.
Saxena A. Trauma to LisFranc's Joint: An Algorithmic Approach. The Lower Extremity. vol. 4, issue 3, 1997.
---
Home | About Dr. Saxena | Articles | Appointments | Shoe List | Orthoses
Medial Distal Tibial Syndrome (Shin Splints) | Sever's Disease/Calcaneal Apophysitis
Ankle Sprains & Calf Strains | Injury Prevention | Heel Pain | Achilles Heel | Ankle Stretching, Rehabilitation & Taping
Return to Sports After Injury | Cycling | Marathons | Videos | Recommended Books | Links
Friends & Patients | Legal Notice | Privacy Statement | Site Map
Copyright © Amol Saxena, DPM - Sports Medicine & Surgery of the Foot & Ankle
Web Site Design, Hosting & Maintenance By Catalyst Marketing Innovations, LLC/ Worry Free Websites