Dr. Amol Saxena, DPM
Palo Alto Foundation
Medical Group
Dept. of Sports Medicine
3rd Floor, Clark Building
795 El Camino Real
Palo Alto, CA 94301
Office: 650-853-2943
Fax: 650-853-6094
E-Mail
Map | Directions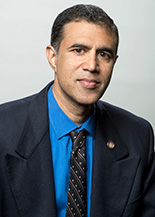 Long term results of injuries to the talar dome. 1999 Am College of Foot and Ankle Surgeons Meeting.
Amol Saxena, DPM FACFAS
Palo Alto, CA
To show the results of surgical treatment of injuries to the talar dome and determine their efficacy. As new technologies and treatments emerge, these results need to be documented.
Surgical treatment of traumatically induced osteochondral defects have better results than osteochondritis dissecans. Medial malleolar osteotomy may predispose patients to medial tibio-talar degeneration. Standard arthroscopic techniques may not allow for adequate visualization and treatment of these lesions. Open arthrotomy currently yields better access and results.
Patients with osteochondral lesions and osteochondritis dissecans have few treatment options available to them when "routine" excision, drilling and curettement fail. New technologies available for other joints may be able to be modified for talar lesions.
Nineteen patients with the diagnoses of osteochondral defect (OCD) and osteochondritis dissecans (OD) of the talar dome were reviewed. Fifteen patients underwent open surgical treatment. One patient with bilateral OD necessitated "reoperation" on one side, two years after initial treatment. Two patients with medial OCD with previous arthroscopic treatment elsewhere had continued symptoms; one underwent subsequent open repair with relief of symptoms. Athletic patients fared better than non-athletic patients. Two posterolateral lesions were identified, and healed with conservative treatment.
---
Home | About Dr. Saxena | Articles | Appointments | Shoe List | Orthoses
Medial Distal Tibial Syndrome (Shin Splints) | Sever's Disease/Calcaneal Apophysitis
Ankle Sprains & Calf Strains | Injury Prevention | Heel Pain | Achilles Heel | Ankle Stretching, Rehabilitation & Taping
Return to Sports After Injury | Cycling | Marathons | Videos | Recommended Books | Links
Friends & Patients | Legal Notice | Privacy Statement | Site Map
Copyright © Amol Saxena, DPM - Sports Medicine & Surgery of the Foot & Ankle
Web Site Design, Hosting & Maintenance By Catalyst Marketing Innovations, LLC/ Worry Free Websites