Dr. Amol Saxena, DPM
Palo Alto Foundation
Medical Group
Dept. of Sports Medicine
3rd Floor, Clark Building
795 El Camino Real
Palo Alto, CA 94301
Office: 650-853-2943
Fax: 650-853-6094
E-Mail
Map | Directions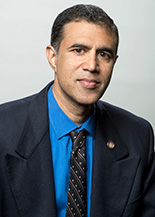 Outcomes of foot and ankle surgery in athletic patients. 1997 Am. College of Foot and Ankle Surgeons Meeting.
Amol Saxena, DPM, FACFAS
Palo Alto, CA
To reveal the results of surgery on athletic patients for elective and semi-elective procedures. The ability (or lack of) should be helpful to educate the practitioner and patient as to what athletic activities are reasonable to perform post-op. Techniques and procedures that allow this will be presented.
Elective foot and ankle surgery may be performed on athletic patients without the fear of inability to return to previous athletic level and intensity.
Doctors and patients often postpone surgical treatment of foot and ankle disorder for fear of inability to return to their desired activity level. Little information supporting the "pros and cons" of performing surgery on this class of patient is available. This is the first study of its kind on a variety of procedures. Furthermore, defining an athletic patient versus active and sedentary patients has not been clarified until this study.
The 124 foot and ankle procedures performed on 117 athletic patients were retrospectively reviewed from 1990 to 1997. There were 62 males and 55 females. Athletic patients were defined: Varsity high school and college athletes, six hours or more per week of aerobics, basketball or similar endeavors. Fifty forefoot, 45 rearfoot/ankle and 29 achilles procedures were performed. All patients were able to return to their desired activity levels; techniques allowing this include non-weight bearing and functional bracing.
---
Home | About Dr. Saxena | Articles | Appointments | Shoe List | Orthoses
Medial Distal Tibial Syndrome (Shin Splints) | Sever's Disease/Calcaneal Apophysitis
Ankle Sprains & Calf Strains | Injury Prevention | Heel Pain | Achilles Heel | Ankle Stretching, Rehabilitation & Taping
Return to Sports After Injury | Cycling | Marathons | Videos | Recommended Books | Links
Friends & Patients | Legal Notice | Privacy Statement | Site Map
Copyright © Amol Saxena, DPM - Sports Medicine & Surgery of the Foot & Ankle
Web Site Design, Hosting & Maintenance By Catalyst Marketing Innovations, LLC/ Worry Free Websites