Dr. Amol Saxena, DPM
Palo Alto Foundation
Medical Group
Dept. of Sports Medicine
3rd Floor, Clark Building
795 El Camino Real
Palo Alto, CA 94301
Office: 650-853-2943
Fax: 650-853-6094
E-Mail
Map | Directions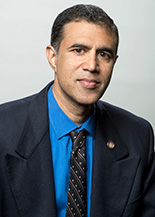 Pigmented Villonodular Synovitis of the Ankle: a report of two cases. March, 1995 The Lower Extremity, Churchill Livingstone.
Amol Saxena, D.P.M., F.A.C.F.A.S.
Department of Sports Medicine
Palo Alto Medical Foundation
913 Emerson Street
Palo Alto, CA 94301
415/853-2943 FAX 415/853-6094
ABSTRACT
Two cases of pigmented villonodular synovitis (PVNS) involving the ankle are presented. The first case was localized to the tibialis posterior tendon sheath, while the second was interarticular causing destruction of a portion of the talar dome. Though uncommon, PVNS can be locally aggressive and therefore destructive to associated tissues. Awareness of this condition and treatment approach should be known to those who treat foot and ankle pathology.
Pigmented villonodular synovitis (PVNS) is relatively uncommon in the ankle. Only eight cases have been reported in literature since 1980. PVNS is most common in the knee (1-3). PVNS may be localized (nodular) either extra-articularly or intra-articularly (1,3). In addition, extra-articular lesions may be diffuse, which often results in erosion of bone, (though this may also occur with the localized form). PVNS is most common in the third through fifth decade of life but has also occurred in the ankle in children under the age of 10 (1, 4-6).
The etiology of PVNS is unclear, though many propose trauma as the precipitating event. Jaffe first described the lesion histologically and showed that PVNS lacked neoplastic cells. He proposed a hypervascular cellular phase subsequent to trauma produced hyalinization and fibrosis (7). Grossly, PVNS may be nodular or globular, yellowish, villous growths, associated with synovial membranes. Microscopic findings include hemosiderin deposits, foamy histiocytes, giant cells and large synovial cells (1-8).
Treatment generally consists of local resection of abnormal tissues. Reoccurrence is common and may be treated with radiation (1-4). MRI has been shown to be useful in delineating the extent of PVNS as indicated by medium to low signal intensity lesions, often eroding bone involving synovium of either joints or tendon sheaths (9).
KEY WORDS: Pigmented villonodular synovitis, ankle, talar dome, tibialis posterior.
CASE I:
A twenty eight year old female complained of insidious onset of right ankle pain. Eight years prior she had a mass excised from the medial aspect of the right ankle that was thought to be a ganglion or possible rheumatoid nodule. She had previously been tested for rheumatoid factor which was normal. The medial aspect of the ankle swelled with activity, including aerobics and StairMaster. She had sustained previous ankle sprains.
The clinical exam revealed palpable fibrosis and edema along the right tibialis posterior tendon; the previous incision which coursed over this area was nonfibrotic and the tendon had normal strength. The patient displayed symmetric mild pronation stance and had normal pedal neurovascular status. Plain radiographs demonstrated some mild sclerosis of the talar neck and body and an old posterior talar process fracture with no sign of tibialis posterior avulsion/accessory navicular (Figures 1 A and B). MRI evaluation showed a zone of intermediate signal intensity around the tibialis posterior tendon as it coursed below the medial malleolus. No sign of avascular necrosis nor recent injury to the posterior talus was noted. The MRI impression was "abnormal soft tissue encasing the right tibialis posterior tendon, not typical of a ganglion" (Figures 2 A and B). The informed patient elected to undergo surgical intervention.
Under general anesthesia a medial curvilinear incision was used to expose the tibialis posterior tendon at the appropriate level. A 3.5 x 2 cm fibro-fatty, multilobulated brownish red mass was excised from the tendon sheath. The associated chronic fibrosis from the contiguous tendon was excised. The pathology results revealed pigmented villonodular synovitis of the tendon sheath and indicated the mass contained the characteristic multiple synovial multiple cells with giant cell reaction, hemosiderin deposition, and foamy histiocytes.
The patient's postoperative regimen was uneventful. She was immobilized, non-weight bearing for three weeks in a below knee cast and for an additional three weeks in a below knee weight bearing cast walker boot. She subsequently wore a lace-up ankle brace from six to ten weeks postoperatively and was followed up with thermoplastic functional arthroses at three months postoperative. By four months post surgery she resumed all her daily activities and aerobics without any pain. At two years post surgery she has not noticed any reoccurrence of the mass nor pain in the medial right foot and ankle.
CASE II:
A 39 year old male presented with a ten year history of left ankle pain resulting from a sprain that did not seem to heal. Twenty years prior he had severe trauma to his left tibia sustaining a mid shaft fracture which healed uneventfully. The patient related that he sprains his ankle approximately every six months. Previous treatment included physical therapy and ankle braces. He noted increased swelling and pain, along with limited motion over the past few years including pain with athletic activities.
Physical exam revealed diffuse fullness on the anterior aspect of the left ankle with a 3+ positive anterior drawer and 1+ varus stress test. Ankle dorsiflexion was limited on the left side as compared with the asymptomatic right ankle. He was minimally pronated in stance. X-rays showed subchondral lucency in the talar dome, erosions of the talar neck, sclerosis in the talar body and anterior migration of greater than 5 mm of the talus (Figure 3 A and B). Subsequent MRI evaluation showed a soft tissue mass contiguous with the anterior aspect of the ankle with erosion of the anterior talar dome. The anterior talofibular ligament appeared disrupted. The signal characteristics suggested a pigmented villonodular synovitis (Figure 4 A and B). The informed patient requested surgical intervention with the anticipation of a hip graft to repair erosions and defects of the talus.
The patient had the procedure under general anesthesia. An extended Ollier-type incision was made exposing the anterior ankle joint and the lateral ankle ligament complex. The anterior talofibular ligament was found to be avulsed off the lateral aspect of the talus; deep to this a large 5 x 8 x 1 cm yellow-brown lobulated mass was visualized and extracted from the anterior ankle (Figure 5). The eroded neck and dome of the talus was curetted. The articular surface had three osteochondral lesions eroded down a subchondral bone involving essentially the lateral half of the anterior talar articular surface. Therefore instead of deeply curetting these lesions, jeopardizing the talar dome surface and stability, corticocancellous bone chips were packed under the talar dome. This was done by drilling from the anterior aspect of the talus just distal to the edge of the trochlear surface creating a cavity that was packed with the autogenous bone from the patient's left hip. The anterior talofibular ligament was repaired with long dissolving "O" absorbable suture. The excised bone and mass was sent to pathology. Microscopic evaluation revealed a pigmented villonodular synovitis of bone and synovium. Characteristic findings were once again noted, namely giant cell reaction and large synovial villi, along with hemosiderin deposits and foam cells.
The patient's postoperative course consisted of six weeks non-weight bearing with a below the knee cast and an additional six weeks weight bearing in a below the knee cast walker boot. The patient healed uneventfully despite a possible sinus tract infection that occurred at four weeks postoperatively. (This resolved with antibiotics and local wound care.) He started physical therapy at 10 weeks postoperatively. Graft consolidation was evident radiographically by 12 weeks (Figure 6). He was able to resume all daily activities by four months postoperatively and hiking and limited jogging were permitted by six months postoperatively. He will be followed on a yearly basis.
DISCUSSION:
PVNS or pigmented villonodular synovitis, though uncommon, can be destructive and recurrent in nature. The patient in Case I had a previous surgery for an unknown mass, which apparently reoccurred as PVNS. The patient in Case II had experienced ankle symptoms for ten years and his PVNS condition resulted in significant erosion of the talar dome which may eventually necessitate a fusion.
Previous authors' have indicated recurrence of PVNS is common. Thorough work-up may help avoid the joint destruction that is inherent to lesions that are present longterm(1.6). Appropriate evaluation includes an MRI evaluation in patients who exhibit masses associated with tendon sheaths and joints. A history of trauma should also make the practitioner more suspicious of PVNS lesions. In addition plain x-rays will typically show erosions with a sclerotic rim and subchondral lucencies(1.8). Biopsy of masses showing foamy histiocytes, giant cells, hemosiderin deposition and enlarged synovial villi (Figure 7 A-C), should be treated by excision of the entire mass, included involved bone and soft tissue(1.8). MRI will help delineate this involvement(9). The sequelae of "leaving" involved tissue in or near a joint leads to local pressure, and subsequently additional destruction via recurrence (1.6). Therefore, early aggressive treatment of suspected PVNS is paramount in avoiding this complication. Recurrences may be re-excised and treated with radiotherapy(1.6). Followup examination with plain x-ray, bone scan and MRI is helpful(9).
SUMMARY
The author presented two cases of Pigmented Villinodular Synovitis of the ankle. Both of these patients had experienced previous ankle sprains. Therefore in patients with previous trauma, in which palpable masses and fullness are evident, particularly near joints, PVNS should be included in the differential diagnosis.
FIGURE LEGENDS
Figure 1A & B: Plain x-rays indicating sclerosis of the talar neck and body.
Figure 2A & B: MRI showing abnormal mass (arrows) encasing the right tibialis posterior tendon. The contralateral side is normal for comparison.
Figure 3A & B: X-rays revealing subchondral lucencies of the talar dome, erosions of the talar neck, and sclerosis of the talar body. More than 5 mm migration of the talus is present on the lateral view.
Figure 4A & B: MRI showing a large medium intensity mass on the anterior aspect of the ankle. Note the erosions of the talus, particularly the talar dome.
Figure 5: Pigmented villonodular synovitis from the anterior talus.
Figure 6: Graft consolidation noted under talar dome.
Figure 7A,B & C: Typical histological findings with PVNS: foamy histiocytes (A, 100x), giant cells (B, 100x), and hemosiderin deposits (C, 50x). (Photos courtesy of John Collin, M.D.)
REFERENCES
1. Green A, Sutherland W, Trafton PG: Localized nodular synovitis of the ankle: A case report. Foot Ankle 1991; 12(1):47-51.
2. Rothstein S: Localized pigmented villonodular synovitis of the ankle: A case study and review of the literature. J Am Podiatry Assoc 1981; 71(11):607-610.
3. Miller WD: Villonodular synovitis: Pigmented and nonpigmented variations. South Med J 1982; 72(9):1084-1086, 1092.
4. Soifer T, Guirguis S, Vigorita B, Bryk E: Pigmented villonodular synovitis in a child. J Pediatric Surg 1993; 28(12):1597-1600.
5. Aghasi M, Robinson D, Reif R, Halperin N: Pigmented villonodular synovitis of the talus in a child. Foot Ankle 1988; 9(3):139-142.
6. Walls J, Nogi J: Multifocal pigmented villonodular synovitis in a child. J Pediatr Orthop 1985; 5(2):229-231.
7. Jaffe H, Lichtenstein L, Sutro C: Pigmented villonodular synovitis, bursitis and tenosynovitis: A discussion of the synovial and bursal equivalents of the tenosynovial lesion commonly denoted as xanthoma, xanthogranuloma, giant cell tumor or myelopaxoma of the tendon sheath, with some considerations of the tendon sheath lesion itself. Arch Pathol 1941; 3l:731-765.
8. Ushijimi M, Hashimoto H, Tsuneyoshi M, Enjoji M: Pigmented villonodular synovitis. Acta Pathol Japan 1986; 36(3):317-326.
9. Ugai K, Morimoto K: Magnetic resonance imaging of pigmented villonodular synovitis in subtalar joint: Report of a case. Clin Orthop 1992; 283:281-284.
---
Home | About Dr. Saxena | Articles | Appointments | Shoe List | Orthoses
Medial Distal Tibial Syndrome (Shin Splints) | Sever's Disease/Calcaneal Apophysitis
Ankle Sprains & Calf Strains | Injury Prevention | Heel Pain | Achilles Heel | Ankle Stretching, Rehabilitation & Taping
Return to Sports After Injury | Cycling | Marathons | Videos | Recommended Books | Links
Friends & Patients | Legal Notice | Privacy Statement | Site Map
Copyright © Amol Saxena, DPM - Sports Medicine & Surgery of the Foot & Ankle
Web Site Design, Hosting & Maintenance By Catalyst Marketing Innovations, LLC/ Worry Free Websites